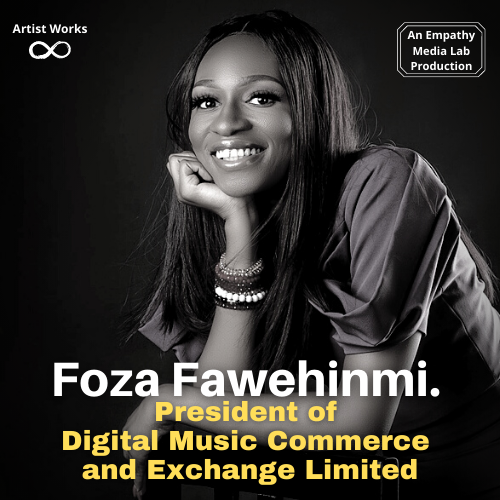 "You are also competing with the guy that goes on TikTok and eats 10,000 pieces of meat and is a superstar. Right? So Superstardom is no longer exclusive to artists or filmmakers or actors. I really feel for the artists." 
Foza Fawehinmi, President, Digital Music Commerce and Exchange Limited
Foza Fawehinmi is an award-winning lawyer and the President of Digital Music Commerce and Exchange Limited, an intellectual property valuation, management and administration company serving sub-Saharan Africa. Over the last 9 years, she has served as a legal advisory and business consultant for some of Africa's most reputable entertainment companies and artists including, Chocolate City Music, Premier Records, Boomplay Music, Infinix Nigeria, K1 De Ultimate, Teni, Adekunle Gold, The Sarz Academy, Sarz and more
Learn more about Foza's work at:
About EMLab's Artist Works
Artist Works is an EMLab brand that explores the labor, concepts, and inspiration behind the artists illuminating and shaping our world. 
EMLab is produced by Evan Matthew Papp and we are a proud member of the Labor Radio Podcast Network. Support media, authors, artists, historians, and journalists, and laborers who are fighting for a brighter day for everyone, everywhere. Union solidarity forever.
All Links: https://wlo.link/@empathymedialab 
#laborradiopod
#ArtistWorks